Welcome to "What's Next? Navigating Life's Transitions in Southeast Alaska" a podcast to help you plan for current and future life transitions. An attorney in Southeast Alaska, Liz Smith focuses her law practice on estate planning, but this podcast brings much more than topics about who gets what and when! Liz hosts pleasant and practical conversations with industry leaders and practitioners in her community. We'll investigate building and leaving your legacy, supporting aging loved ones and parents and the resources to assist you, and we'll dig into topics around birth (and special considerations for new parents), aging, and death, that will affect each of us.
Episodes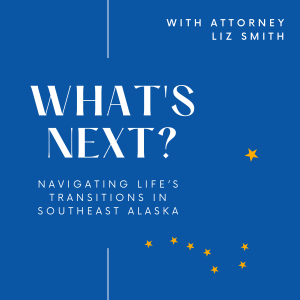 Monday Aug 30, 2021
Monday Aug 30, 2021
Welcome! My name is Heather Skaggs and I am proud to be a Realtor with RE/MAX of Juneau. I've called Juneau home for over 35 years and I truly love the beauty of this community.
As a Realtor, I completely respect and value the trust that my clients place in me and I strive every day to exceed their expectations. My clients can count on me to make the process of buying or selling a home as stress-free as possible. I take great pride in being honest, dependable, and trustworthy.
As a Juneauite, I love the beauty that Alaska offers us and I'm proud to call Juneau my home. I value shopping locally, supporting small businesses, and participating in community events.
When you choose to work with me I will dedicate my time, attention, and expertise to every aspect of your home sale or purchase.
Tune into this week's episode of the What's Next podcast for a conversation with Heather Skaggs about all things real estate. Learn more about the roles and benefits of a real estate agent in the home buying process, how to hire the right agent, and how Heather saves her clients money in a legal and responsible way. 
Quotes:
"My job is to keep as much of my client's money in their pockets as I possibly can. There are several opportunities for negotiation throughout a real estate transaction, and I do my best to make sure that you get what you want without overpaying whenever possible." (03:55-04:27)

"Just like most professions in life, I think the real benefit comes from the experience and seeing how things play out over and over and over again. That is the most beneficial education, right? Because sometimes it goes really bad. And sometimes there's something that you could have done about it, and sometimes there's not. But you know, it doesn't always go well and that's not something you learn in a book." (08:30-09:16)

"It's a very personal decision. So my suggestion is that you need to find someone that you have fairly simple communication with." (17:18-17:29)

"I think that you probably get the most honest feedback from people that have already used a realtor." (18:24-18:37)
Links:
https://heatherskaggs.remax.com/ 
https://www.facebook.com/HeatherSkaggs.Realtor 
For all of Liz Smith's resources give her a like on Facebook: https://www.facebook.com/lizsmithlaw 
Podcast production and show notes provided by FIRESIDE Marketing