Welcome to "What's Next? Navigating Life's Transitions in Southeast Alaska" a podcast to help you plan for current and future life transitions. An attorney in Southeast Alaska, Liz Smith focuses her law practice on estate planning, but this podcast brings much more than topics about who gets what and when! Liz hosts pleasant and practical conversations with industry leaders and practitioners in her community. We'll investigate building and leaving your legacy, supporting aging loved ones and parents and the resources to assist you, and we'll dig into topics around birth (and special considerations for new parents), aging, and death, that will affect each of us.
Episodes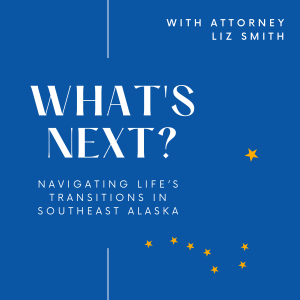 Monday May 02, 2022
Monday May 02, 2022
There are many types of investments and accounts to choose from, and understanding the market and how to create a financial portfolio can be difficult to do on your own. In today's episode, host Liz Smith is joined in conversation with Christine Eisenhower, Financial Advisor and Co-Owner at Blue Anchor Wealth Advisors, to discuss how a financial advisor can help you navigate saving for retirement. 
Christine became a certified financial advisor after spending many years as a corporate CPA. As an advisor, she is able to work one-on-one with clients and develop more of a personal relationship with them. Having a personal relationship is vital to both understanding and helping clients achieve their retirement goals. As an advisor, Christine helps her clients with all aspects of money management including: saving for retirement, understanding the impacts of inflation, learning about different options available for withdrawing or transferring funds, and making changes to your portfolio. 
Tune into this week's episode of What's Next to learn more about how a financial advisor can help you navigate the market, save for retirement, and make necessary changes to your financial portfolio.
Quotes
• "As a Certified Financial Planner, my job is to have a holistic approach to financial planning and advice." (14:04-14:11)
• "When you've spent seven years working and saving and suddenly, you're just spending in what you would consider a frivolous manner, that's not an easy adjustment to make. But I am a cheerleader for spending and enjoying your money." (21:47-22:02)
• "It is recommended that you open up an IRA custodian, it could be Charles Schwab, it could be any custodian. And you transfer the assets from those old retirement accounts into your IRA, and you get them all in the same place so you've got a bucket of money that's your retirement money." (26:08-26:26)
• "Women have proven themselves to be better investors than men. And I think that, in my experience, that's because women are maybe a little bit more open to having a tribe around them of receiving that input of knowing that we can't really do it all. And that input of having an expertise, helps them be open to education, and long-term planning. Not to say that men aren't. Men are very good investors, but the approach that men and women take to investing is very different." (37:27-38:11)
• "Give yourself some grace, especially if you're going through something new." (47:31-47:35)
Links:
Connect with Christine Eisenhower:
Website: https://blueanchorwealth.com/
For all of Liz Smith's resources give her a like on Facebook: https://www.facebook.com/lizsmithlaw 
Podcast production and show notes provided by HiveCast.fm