Welcome to "What's Next? Navigating Life's Transitions in Southeast Alaska" a podcast to help you plan for current and future life transitions. An attorney in Southeast Alaska, Liz Smith focuses her law practice on estate planning, but this podcast brings much more than topics about who gets what and when! Liz hosts pleasant and practical conversations with industry leaders and practitioners in her community. We'll investigate building and leaving your legacy, supporting aging loved ones and parents and the resources to assist you, and we'll dig into topics around birth (and special considerations for new parents), aging, and death, that will affect each of us.
Episodes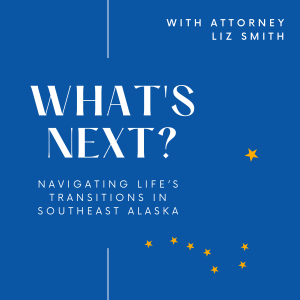 Tuesday Oct 05, 2021
Tuesday Oct 05, 2021
Karen Tessandore, owner of Counseling for Her, had never been to college before the age of 40. After growing tired of living paycheck to paycheck, Karen knew it was time to make a change. Despite personal challenges and doubts from people in her life, Karen pushed through six years of school to pursue a master's degree in counseling. Today, she is a licensed therapist who is passionate about helping to inspire other women to navigate through transitional periods. 
When Karen was trying to figure out what was next for her, she reflected back on what she was good at. For her whole life, Karen has always been the friend that is there for people when they are down. She realized quickly that professional counseling would be a career where she could fulfill her passions and have financial stability for her family. For anyone who feels stuck, Karen suggests looking at the things that you already do. She explains that most times, that is where we can bring the most value. 
No matter what stage you are at in your life, you can make the change to get unstuck. Tune into this week's episode of What's Next to hear more about Karen's inspirational journey. Learn more about her work at Counseling for Her, and how you can take the next steps towards a life that looks good on the outside but feels even better on the inside. 
Quotes:
I just decided that this was my path. And once that decision was made, I never once have changed my mind. (16:10-16:19)

"In America, we're fed through our culture the idea of fast success. But even the ones that we think we can look at that are fast successes, they're not fast, because it takes time to develop things." (17:50-18:03)

"Look at the things that you enjoy, and that seems easy to you. We have this feeling that when things are easy for us, they're not valuable. But if it's easy for you, maybe that is your skill, or that is the thing that you have to offer." (23:15-23:29)
Links:
http://www.counselingforher.com/
https://www.counselingforher.com/values/
Designing Your Life by Bill Burnett and Dave Evans
The Big Leap by Gay Hendricks
For all of Liz Smith's resources give her a like on Facebook: https://www.facebook.com/lizsmithlaw 
Podcast production and show notes provided by HiveCast.fm