Welcome to "What's Next? Navigating Life's Transitions in Southeast Alaska" a podcast to help you plan for current and future life transitions. An attorney in Southeast Alaska, Liz Smith focuses her law practice on estate planning, but this podcast brings much more than topics about who gets what and when! Liz hosts pleasant and practical conversations with industry leaders and practitioners in her community. We'll investigate building and leaving your legacy, supporting aging loved ones and parents and the resources to assist you, and we'll dig into topics around birth (and special considerations for new parents), aging, and death, that will affect each of us.
Episodes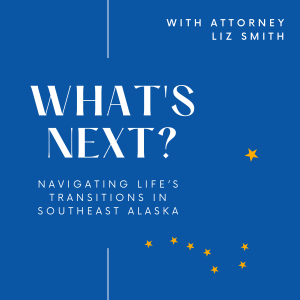 Monday Apr 04, 2022
Monday Apr 04, 2022
In today's digital world, protecting your online identity is just as important as protecting your real identity. As hackers continue to advance their tactics, it is becoming increasingly crucial that you learn how to stay ahead. In today's episode, host Liz Smith is joined in conversation with Jeremy Hansen, Partner & CEO at Hansen Gress to discuss ways you can continue to protect your legacy.
According to Jeremy, the relationship between cybersecurity and estate planning is synonymous. As things continue to be digitized, more and more of our personal information is being stored somewhere on the internet, making us vulnerable to cybersecurity attacks. While it may seem complex, Jeremy explains that there are many accessible tools you can use to prevent yourself from falling victim to online crimes and the best way to protect yourself and your family is to get educated and spread the word. 
Tune into this week's episode of What's Next to learn more about the importance of separating your personal and work identities, and implementing things such as two-factor authentication and password management systems so you can better educate and protect your identity.  
Quotes
• "I've been contemplating the relationship between cybersecurity and estate planning and I quickly came to realize that protecting our identity is one of the first decisions that we need to make in the estate planning process." (03:43-04:01)
• "Our digital and regular day-to-day identities are tied together very intimately and you deserve to protect that." (04:14-04:27)
• "The easy things that we can do to make a dramatic difference in protecting our identity are educating ourselves, getting organized, and learning how to manage it." (11:18-11:32)
• "What LastPass allows you to do is use more complex passwords without you having to remember them." (15:54-16:03)
• "When an attacker is able to collect information about you like your birthday or what your habits are, it just opens the door for them to exploit your information" (18:58-19:11)
• "Keep your work identities and your personal identities separated." (39:19-39:23)
Links:
Website: https://www.hansengress.com/
Phishing Quiz: https://phishingquiz.withgoogle.com/
Password manager: https://www.lastpass.com/
Password manager: https://www.dashlane.com/
Facebook Legacy Contact - What will happen to my Facebook if I pass away?
https://www.facebook.com/help/103897939701143
What happens to social media accounts when someone dies?
https://www.militaryspouse.com/sponsored/what-happens-to-social-media-when-someone-dies/#:~:text=If%20you%20would%20like%20an,Additional%20 items%20 may%20be%20requested.
Complex Password Guide from XKCD : https://xkcd.com/936/
GDPR:  https://ico.org.uk/for-organisations/guide-to-data-protection/guide-to-the-general-data-protection-regulation-gdpr/individual-rights/right-to-erasure/
What is "Do Not Track"
Do Not Track legislation protects users' right to choose whether or not they want to be tracked by third-party websites. It is often called the online version of "Do Not Call" (Wikipedia).
For all of Liz Smith's resources give her a like on Facebook: https://www.facebook.com/lizsmithlaw 
Podcast production and show notes provided by HiveCast.fm