Welcome to "What's Next? Navigating Life's Transitions in Southeast Alaska" a podcast to help you plan for current and future life transitions. An attorney in Southeast Alaska, Liz Smith focuses her law practice on estate planning, but this podcast brings much more than topics about who gets what and when! Liz hosts pleasant and practical conversations with industry leaders and practitioners in her community. We'll investigate building and leaving your legacy, supporting aging loved ones and parents and the resources to assist you, and we'll dig into topics around birth (and special considerations for new parents), aging, and death, that will affect each of us.
Episodes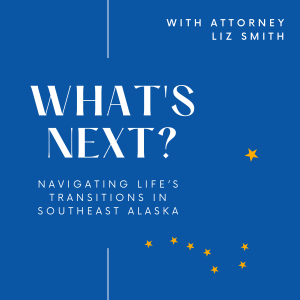 Wednesday Oct 26, 2022
Wednesday Oct 26, 2022
Grief resulting from loss is a natural part of life that can be difficult to navigate. After the collective experience of the global pandemic, grief is a more common emotional state than ever. In today's episode, host Liz Smith is joined in conversation with Katie Cranor, a local psychotherapist, to talk about resources for coping with your grief and how to best support your loved ones. 
Grief is a process of saying goodbye and that process looks different for everyone. Though there are commonly known stages of grief, not everyone experiences each stage in the exact same way. Having someone to grieve with who really understands what you are going through is critical for long-term healing. Unfortunately, the majority of people who extend their support will only do so for a short time. They will not reach out at that first anniversary of the death or for their first birthday, and then you will be left to face these challenging days alone. This is why it is sometimes best to have a professional that you can speak with so that you know someone always has your back. 
It's important to understand that you are not alone in your journey to healing. Join this week's episode of What's Next to learn more about coping with grief and the available mental health resources and support groups in Alaska. 
Quotes
"I think we can count ourselves among the truly fortunate if we have a friend or family member, or a neighbor or companion of some kind, who knows how to truly ask, how are you? Because the lifespan of friendship, relationships, and knowing how to ask 'how are you' in the wake of losing someone that you love is actually quite narrow." (13:42-14:32 | Katie)

"Because it can be so rare to have somebody that you can genuinely talk to and genuinely confide in, it can be a really good idea to find a professional to speak with that can be a really invaluable resource to just know that you have somebody out there who's going to have your back." (18:10-18:27 | Katie)

"The common denominator for having someone to speak with and having community to grieve with, is being able to know that a person is not alone in their grief." (21:23-21:33 | Katie) 

"Let's talk about the person that you're saying goodbye to. What do you miss about them? What do you not miss about them? What's going to change in your life, because they are now dead? And what parts of them do you want to capture and bring into everyday life? Whatever those elements of that person are that you want to capture and bring into everyday life, those are the things that you want to do to keep their memory alive." (35:14-35:53 | Katie)
Links:
Connect with Katie Cranor:
Catholic Community Service Grief and Bereavement Support: http://www.ccsak.org/grief--bereavement-support.html
Juneau Counselor and Therapist List: https://www.juneaumentalhealth.org/copy-of-private-practice-mental-hea
Somatic Regulation Exercises: https://www.youtube.com/watch?v=2RsMwG2YKyE
For all of Liz Smith's resources give her a like on Facebook: https://www.facebook.com/lizsmithlaw 
Podcast production and show notes provided by HiveCast.fm