Welcome to "What's Next? Navigating Life's Transitions in Southeast Alaska" a podcast to help you plan for current and future life transitions. An attorney in Southeast Alaska, Liz Smith focuses her law practice on estate planning, but this podcast brings much more than topics about who gets what and when! Liz hosts pleasant and practical conversations with industry leaders and practitioners in her community. We'll investigate building and leaving your legacy, supporting aging loved ones and parents and the resources to assist you, and we'll dig into topics around birth (and special considerations for new parents), aging, and death, that will affect each of us.
Episodes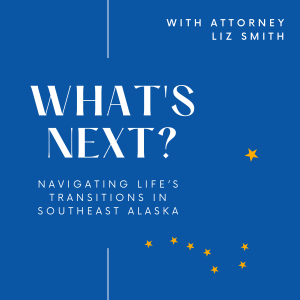 Monday Nov 15, 2021
Monday Nov 15, 2021
Jennifer Carson has been with Catholic Community Service (CCS) for nine years and currently serves as the Director of Hospice and Home Care of Juneau. Jennifer is a team-focused leader who draws upon the unique abilities of her staff to build a cohesive team. She stays informed on state and national trends and works collaboratively with others. Jennifer has over 10 years of experience with healthcare and social service compliance, and over 15 years of experience providing direct services to adults with chronic and severe mental illness. Today, Jennifer uses her background to help spread awareness about the accessible end-of-life resources in southeast Alaska.
For patients to be approved for hospice care, they must have a terminal disease and a life expectancy of six months or less. Jennifer explains that before entering hospice, it is important to have an established plan of care. Not only will an established plan make it easier on the patient, but on the family and hospice staff too. Whether it's home care or hospice, Jennifer and her staff strive to provide comfortable and reliable care to every patient. 
Tune into this week's episode of the What's Next podcast to learn more about what the Hospice and Home Care of Juneau provide, the difference between hospice and home care, and the importance of establishing a relationship with your caregivers so you can create a comfortable end-of-life experience for you and your loved ones. 
Quotes
• "The goal of home health is to have somebody who's had an illness or injury get back to a functioning level and hopefully back to where they were before." (03:43-03:54)
• "One of the misconceptions about hospice is if you haven't passed in six months, you're going to get kicked out." (05:29-05:35)
• "Sometimes your disease process goes quicker than what you thought and getting everything finalized can take quite a while. So, I think having everything in order certainly makes things so much easier." (18:08-18:25)
• "Hospice is all about helping you follow through with your plans for your care." (18:40-18:45)
• "What is unique about us here in Juneau is anything that's not covered by your insurance, you will never receive a bill for." (31:26-31:35)
Links:
Website | https://www.ccsak.org/hospice--home-care-of-juneau.html 
Website | https://www.ccsak.org/ 
Phone | (907) 463-6100
For all of Liz Smith's resources give her a like on Facebook: https://www.facebook.com/lizsmithlaw 

Podcast production and show notes provided by HiveCast.fm