Welcome to "What's Next? Navigating Life's Transitions in Southeast Alaska" a podcast to help you plan for current and future life transitions. An attorney in Southeast Alaska, Liz Smith focuses her law practice on estate planning, but this podcast brings much more than topics about who gets what and when! Liz hosts pleasant and practical conversations with industry leaders and practitioners in her community. We'll investigate building and leaving your legacy, supporting aging loved ones and parents and the resources to assist you, and we'll dig into topics around birth (and special considerations for new parents), aging, and death, that will affect each of us.
Episodes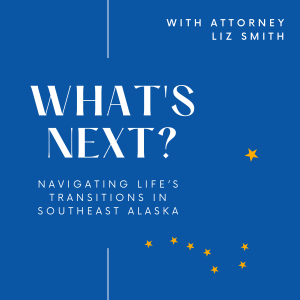 Monday Jun 20, 2022
Monday Jun 20, 2022
People often don't realize how large of a stressor it is to help their parents transition at the end of their lives. There is a lot of community support and understanding when caring for children at the beginning of their lives, but not as many support structures for grown children caring for their dying parents. In today's episode, host Liz Smith is joined in conversation with Karen Salama McCain, the Irish-Egyptian founder of GoHively, which helps implement interventions in healthcare settings, schools, and behavioral health organizations that improve communication and reduce stress. 
Karen's parents always planned for her to be their primary caregiver at the end of their lives, but Karen had no idea just how difficult this would actually be in practice. When she became a full-time caregiver for her father, she started to experience severe stress which she soon realized was separation anxiety. She struggled with the idea of letting her father go and worried that she was making the wrong choices and causing harm to her father more than she was helping him. She learned that in order to properly care for her father, she needed to regulate her own emotions and care for her own body first. When she was able to remain calm and regulate her fight or flight response, Karen was able to make more clear decisions and improve communication with her father's doctors and her family members. 
Tune into this week's episode of What's Next to learn more about end of life separation anxiety, how to take care of yourself so that you can be a more effective caregiver, and how to navigate difficult conversations with family members about end of life care. 
Quotes
• "The following 10 days leading up to his death brought a roller coaster of emotions and experiences. What I didn't realize until that 10 day journey was that separation anxiety would be a thing at the end of life too." (5:48-6:06 | Karen)
• "The nurses were gently telling me things like, 'If you take away the morphine, you're going to take away his comfort. He is near the end.' This was the key moment where my anxiety about letting him go could have messed with his comfortable and peaceful transition." (7:16-7:31 | Karen)
• "Somewhere in those sleep deprived couple of days, I remember what I learned when I dropped my son off at daycare. The more comfortable I was in letting him go, the easier it would be for him." (8:18-8:31 | Karen)
• "If we talk openly about caring for our parents in their final days, we can help our friends and children navigate this painful inevitability." (9:09-9:17 | Karen)
• "Stress can really impact your body in a big way or especially stressors where you feel like you can't do something to change the outcome. Those are the kinds of stressors that can really live in your body." (13:58-14:13 | Karen)
• "I made this agreement, and I continue to have a choice about making a decision, am I going to be the caregiver? Or are we going to find an alternate solution? There's always a possibility for some other solution." (21:33-21:48 | Karen)
Links:
Blog article: https://wisdomwell.modernelderacademy.com/launching-my-father-at-the-end-of-his-life
Karen Salama McCain LinkedIn:https://www.linkedin.com/in/karen-salama-mccain/
Website: https://www.salamamccain.com/
Bessel van der Kolk's book, The Body Keeps the Score: https://www.besselvanderkolk.com/resources/the-body-keeps-the-score
Training by Karen Salama McCain and Julie Krohner "The New Brain Science that Makes Old School Caregiving Easier on Everyone" 30 min. Strategies for coping with stressful or complicated family dynamics in caregiving. https://bit.ly/3PQmaTI
Family Meeting to Plan for Caregiving
- https://atlasofcaregiving.com/
- https://www.caregiver.org/resource/holding-family-meeting/
Karen referenced techniques created by:
Howard Stevenson (Calculate Locate Communicate) https://www.gse.upenn.edu/news/recasting-moment-professor-howard-stevenson-creating-change-through-racial-literacy
Bruce Perry (Regulate Relate Reason) https://www.bdperry.com/
Modern Elder Academy: https://www.modernelderacademy.com/
Chip Conley: https://chipconley.com/
The Hoffman Process: https://www.hoffmaninstitute.org/
Liz's blog re: her experience at Hoffman: https://ejsblog.com/2021/11/13/hoffman-when-youre-serious-about-change/
For all of Liz Smith's resources give her a like on Facebook: https://www.facebook.com/lizsmithlaw 
Podcast production and show notes provided by HiveCast.fm