Welcome to "What's Next? Navigating Life's Transitions in Southeast Alaska" a podcast to help you plan for current and future life transitions. An attorney in Southeast Alaska, Liz Smith focuses her law practice on estate planning, but this podcast brings much more than topics about who gets what and when! Liz hosts pleasant and practical conversations with industry leaders and practitioners in her community. We'll investigate building and leaving your legacy, supporting aging loved ones and parents and the resources to assist you, and we'll dig into topics around birth (and special considerations for new parents), aging, and death, that will affect each of us.
Episodes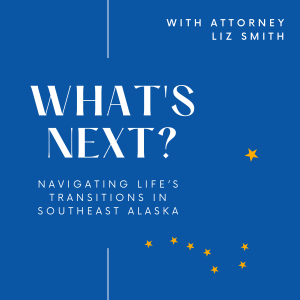 Monday Nov 29, 2021
Monday Nov 29, 2021
"We all want a quality of life and care for seniors," says Stephanie Wheeler, Alaska's long-term care ombudsman. In her role, Stephanie is responsible for ensuring that senior residents across the state receive top-of-the-line care. Today, Stephanie is widely recognized for her advocacy work and commitment to educating the community about the importance of eldercare. 
As an ombudsman, Stephanie's job is to represent the wishes and needs of residents. To best serve her clients, Stephanie focuses on empowering people through education. Whether it be seniors, the public, or legislators, everyone must be working towards improving the quality of life in long-term care facilities. Just because nursing home residents need extra help, does not mean they are not entitled to their rights. Stephanie explains that seniors have the same rights to privacy, confidentiality, and respect as anyone else. Whether it's skilled nursing or assisted living, Stephanie and her staff are on a mission to provide care that meets the needs of every resident. 
Tune into this week's episode of What's Next for a conversation with Stephanie Wheeler to learn more about elder rights, what an ombudsman is, and how the role of an ombudsman is changing the quality of care and life for senior citizens all over the country. 
Quotes
• "Ombudsman means representative of the people. So as a long-term care ombudsman, we focus on the needs of residents in a long-term care facility." (02:26-02:43)
• "We really want to make sure that our volunteers have the heart for listening, talking, and enjoying the company of elders, but are also able to look at things with a critical eye." (09:49-10:13)
• "We all want a quality of life and care for seniors in their homes." (10:24-10:27)
• "The right to dignity and respect should not disappear because you're living in a skilled nursing facility or an assisted living home."(15:29-15:45)
• "97% of our complaints were resolved to the satisfaction of the resident and that's the outcome we're always striving for." (21:09-21:19)
• "There is a state long-term care ombudsman in every state including Puerto Rico and Washington, DC." (34:58-35:08)
• "One of the things that I think about all the time is how tough the transition has to be for seniors who are moving into an assisted living home or a skilled nursing facility." (37:21-37:35)
• "Private pay is definitely costly, but there are funding sources out there to help with assisted living and skilled nursing facility expenses."(45:36-45:44)
Links:
Connect with Stephanie Wheeler:
State of Alaska – Long Term Care Ombudsman:  www.akoltco.org 
Phone Number: 907-334-4480
National Association of Long Term Care Ombudsman: www.nasop.org 
National Consumer Voice: https://theconsumervoice.org 
Facebook: https://www.facebook.com/AKOLTCO/ 
For all of Liz Smith's resources give her a like on Facebook: https://www.facebook.com/lizsmithlaw