Welcome to "What's Next? Navigating Life's Transitions in Southeast Alaska" a podcast to help you plan for current and future life transitions. An attorney in Southeast Alaska, Liz Smith focuses her law practice on estate planning, but this podcast brings much more than topics about who gets what and when! Liz hosts pleasant and practical conversations with industry leaders and practitioners in her community. We'll investigate building and leaving your legacy, supporting aging loved ones and parents and the resources to assist you, and we'll dig into topics around birth (and special considerations for new parents), aging, and death, that will affect each of us.
Episodes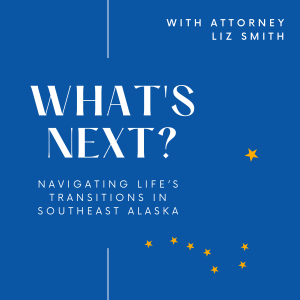 Monday Oct 18, 2021
Monday Oct 18, 2021
"Not everyone is aware they could be in a position to be a guardian for themselves or their loved ones," says Lisa Wawrzonek, Administrator for ASAGA (Alaska State Association of Guardianship & Advocacy). Lisa knows the importance of establishing a plan for end-of-life or unexpected emergencies, but unfortunately, most people don't. Due to this large discrepancy, Lisa continues to educate communities across Alaska about the tools and resources regarding adult guardianship and conservatorship in hopes of making the transition easier for everyone.  
The unfortunate reality is that you never know when something tragic might happen, and that is why Lisa encourages everyone to get their affairs in writing as soon as possible. While starting the process can be intimidating, Lisa explains that there are many tools available to help you. Lisa shares that the most important thing to do is educate yourself. ASAGA works with the Alaska Court System to help provide training videos, classes, and even personal mentors that will be there to guide you every step of the way.
Tune into this week's episode of the What's Next podcast to learn the difference between conservatorship and guardianship, what resources Alaska has to offer, and how you can talk with your family about making the decision that is best for you. 
Quotes:
• "Come July of 2017, we literally had a 625% growth so that really lets us know this is something that may be needed." 
• "We would first encourage you to educate yourself about the options before guardianship, such as supported decision making agreements or powers of attorney." (10:49-10:57)
• "The court has issued this order giving you permission to act on someone else's behalf. And because of that, the court has to monitor and enforce that order, no different than if it was a criminal or civil case." (20:05-20:19)
• "We have to be mindful that while we are there to conserve and protect money, we are also there to enrich lives and allow decision making." (39:11-39:15)
Links:
Alaska State Association for Guardianship & Advocacy (ASAGA) | https://asaga.info/
        Phone | 907-444-4015
        Email | asagaak@protonmail.com
        Annual Conference | https://asaga.info/conference/
        Featured trainings | https://asaga.info/er-featured-training/
Alaska Court System - Guardianship forms and resources | http://courts.alaska.gov/shc/guardian-conservator/index.htm
Alaska 211 | https://alaska211.org/
Alaska Disability Law Center | https://www.dlcak.org/
Truelink Financial | https://www.truelinkfinancial.com/
Alaska Statutory Power of Attorney (free, fill out on your own) | https://alaskalawhelp.org/resource/power-of-attorney-form?ref=JKmkS#iB409EEC2-01B9-4F60-9582-591BF2337F26
Alaska Statutory Health Care Directive (free, fill out on your own) | 
http://dhss.alaska.gov/dph/Director/Documents/advancedirective.pdf
For all of Liz Smith's resources, give her a like on Facebook: https://www.facebook.com/lizsmithlaw 
Podcast production and show notes provided by HiveCast.fm