Welcome to "What's Next? Navigating Life's Transitions in Southeast Alaska" a podcast to help you plan for current and future life transitions. An attorney in Southeast Alaska, Liz Smith focuses her law practice on estate planning, but this podcast brings much more than topics about who gets what and when! Liz hosts pleasant and practical conversations with industry leaders and practitioners in her community. We'll investigate building and leaving your legacy, supporting aging loved ones and parents and the resources to assist you, and we'll dig into topics around birth (and special considerations for new parents), aging, and death, that will affect each of us.
Episodes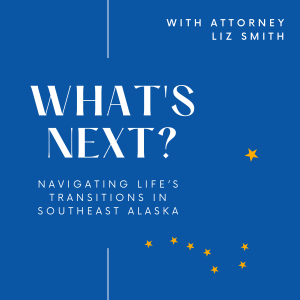 Monday Jul 04, 2022
Monday Jul 04, 2022
There are resources and books for almost every situation in life but almost nothing when it comes to navigating the death of a loved one. People are typically left to figure out logistics of funerals, finances, and mental health support on their own after a loss. In today's episode, host Liz Smith is joined in conversation with Jason Dyke, President and Founder of Carson's Village, a nonprofit organization that provides free and comprehensive support and care to families who have experienced sudden loss.  
Jason founded Carson's Village after the tragic loss of his eleven year old son Carson to suicide. He realized in the days after losing Carson that he had a strong support system to help his family navigate the next steps, but that not everybody has that type of strong support system in their lives. When families experience a sudden loss, they are faced with decisions and financial implications that many are unprepared to undertake, especially without assistance. This inspired Jason to create an organization that would help families and individuals through the process, assisting with finding the right funeral home, providing a fundraising page, and continuing to help them to grieve and process their emotions through support groups. Today, Carson's Village has helped thousands of families across the United States and continues to be the only organization of its kind in the country. 
Tune into this week's episode of What's Next to learn more about Jason's story, the type of services provided by Carson's Village, and the steps to navigating the logistics of sudden loss including tips on managing grief. 
Quotes
• "We saw him, and then I asked the nurse what to do next. And they said we'll call a funeral home and they'll walk you through the process and that was it. And I walked out that night, I didn't know what to do or where to go." (9:46-10:05 | Jason)
• "Everybody grieves in a different way. And so you've got to be sensitive to that. And all four of us went through the grieving process in a much different way. And so it's really important because people think that if you're not grieving like I am, you're not grieving. And that can cause a lot of stress and additional heartache in the house." (20:08-20:30 | Jason)
• "If you look at major life events like birth, cancer, or a wedding, there's all kinds of books about what to do and checklists for every step. everything is there, except for death.." (38:28-38:43 | Jason)
• "The first thing we do is make sure that parents are taking care of themselves because parents can't help children if they can't help themselves. It's kind of like when the oxygen mask drops in the plane, you need to put it on first and then you can help your kids. And that's what you need to be doing when you're going through this. " (45:25-45:39 | Jason)
Links:
Carson's Village: https://carsonsvillage.org/contact-us/
Orbisculate: https://www.orbisculate.com/


For all of Liz Smith's resources give her a like on Facebook: https://www.facebook.com/lizsmithlaw 
Podcast production and show notes provided by HiveCast.fm