Welcome to "What's Next? Navigating Life's Transitions in Southeast Alaska" a podcast to help you plan for current and future life transitions. An attorney in Southeast Alaska, Liz Smith focuses her law practice on estate planning, but this podcast brings much more than topics about who gets what and when! Liz hosts pleasant and practical conversations with industry leaders and practitioners in her community. We'll investigate building and leaving your legacy, supporting aging loved ones and parents and the resources to assist you, and we'll dig into topics around birth (and special considerations for new parents), aging, and death, that will affect each of us.
Episodes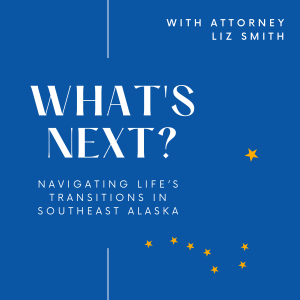 Monday Aug 02, 2021
Monday Aug 02, 2021
After the unexpected loss of her husband at a young age, Seanna O'Sullivan joined the board for the Foundation for End of Life Care. Three years later, she is the youngest person on the board and she sits as the president of the foundation. Seanna is focused on normalizing the conversation around death and helping others prepare end of life plans for themselves and family members. 
Because Seanna and her late husband had yet to reach the age of 50, they thought they had plenty of time to prepare for something like this. When her husband unexpectedly fell ill, there was little time to discuss the expectations and needs of either party. At the time of her husband's death, Seanna did not know anyone else her age who had experienced what she was going through. Trying to grieve, care for her husband, and plan for the future was incredibly overwhelming. Ultimately, she had to learn by herself how to navigate her new life on short notice. 
Tune into this episode of What's Next for a comfortable conversation regarding one of life's hardest moments. Learn about some of the resources available, how to have comfortable conversations regarding death, and the importance of preparing you and your loved ones for the end of life. 
Quotes:
"For many of us, especially in this society, it becomes a real shock when we avoid the subject of death for so long in our lives and suddenly we are faced with it. Most of us don't really know what to do." (03:04- 03:14) 

"If you can have as many things in place and you can talk about things then when that time comes you can focus on the rest of it like the time together." (17:15- 17:28) 
Links:
For more information about the End of Life Foundation please visit:  https://www.foundationforendoflifecareak.org/
For all of Liz Smith's resources give her a like on Facebook: https://www.facebook.com/lizsmithlaw 
Podcast production and show notes provided by FIRESIDE Marketing