Welcome to "What's Next? Navigating Life's Transitions in Southeast Alaska" a podcast to help you plan for current and future life transitions. An attorney in Southeast Alaska, Liz Smith focuses her law practice on estate planning, but this podcast brings much more than topics about who gets what and when! Liz hosts pleasant and practical conversations with industry leaders and practitioners in her community. We'll investigate building and leaving your legacy, supporting aging loved ones and parents and the resources to assist you, and we'll dig into topics around birth (and special considerations for new parents), aging, and death, that will affect each of us.
Episodes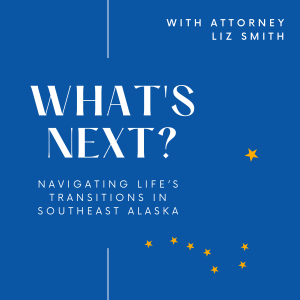 Monday Nov 14, 2022
Monday Nov 14, 2022
Many people feel uncomfortable talking about death, and this can lead to a lot of difficulty when a loved one passes away if they have not yet had a chance to discuss their wishes with their family members. In today's episode, host Liz Smith is joined in conversation with Tracy Foster, a long-time resident of Juneau and family service counselor with Legacy Funeral Homes.
As Tracy explains, when someone dies, there is a whole lot of planning to do, and it can be extremely taxing on the family of the deceased to have to simultaneously sort out all the little details and grieve. By planning ahead for what you would like done after your death, you are saving your loved ones from added stress and ensuring that they will not feel any remorse for having had to guess about your wishes. Whether you choose to be buried or cremated, or you prefer a viewing over a memorial service, and even down to where you get buried, and what you're wearing  there's much to consider before you die. To make the process easier, Tracy suggests writing down your wishes ahead of time or having a discussion with your next of kin.
Planning ahead for your funeral can be daunting. But as daunting as it may be, having a plan made in advance can take a huge weight off of your family's shoulders and help them to feel more at ease throughout the process. By discussing your wishes with them before your death, you can ensure that you will get exactly what you want and your family will not have to wonder if they made the right choices. 
Quotes
"When I first started in this business, there were a lot more burials than there are today. I've noticed over the years, it's really changed and we now have mostly direct cremations." (4:12-4:28 | Tracy)

"Those that didn't plan ahead, it gets left to the family members, or friends or community, depending on where that person is in life, to make the final decisions to try and figure out what that person would have wanted. And I've had a lot of people come back to me, and they don't have peace about the decisions they made because it was never talked about." (6:27-6:55 | Tracy)

"The more that we can talk about death and plan ahead, the better it is for the ones that have to deal with the aftermath." (7:17-7:24 | Tracy) 
Links:
Connect with Tracy Foster:
To set up an appointment with Tracy, please call 907.789.0611 
Legacy Funeral Homes - https://www.legacyalaska.com/
Juneau Contact - https://www.legacyalaska.com/contact/juneau-ak-alaskan
"Preplanning checklist" including notes for creating your obituary - https://www.legacyalaska.com/advanced-planning/preplanning-checklist
For all of Liz Smith's resources give her a like on Facebook: https://www.facebook.com/lizsmithlaw 
Podcast production and show notes provided by HiveCast.fm