Welcome to "What's Next? Navigating Life's Transitions in Southeast Alaska" a podcast to help you plan for current and future life transitions. An attorney in Southeast Alaska, Liz Smith focuses her law practice on estate planning, but this podcast brings much more than topics about who gets what and when! Liz hosts pleasant and practical conversations with industry leaders and practitioners in her community. We'll investigate building and leaving your legacy, supporting aging loved ones and parents and the resources to assist you, and we'll dig into topics around birth (and special considerations for new parents), aging, and death, that will affect each of us.
Episodes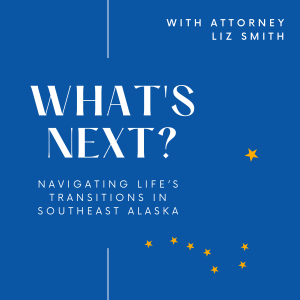 Monday Mar 21, 2022
Monday Mar 21, 2022
For as long as she could remember, Jayleen Bydlon had always wanted to work on boats. Growing up on a remote island, Jayleen worked side by side with her father mastering the trade of whale watching. After graduating college, she took a risk to pursue her passion. Today, Jayleen is the proud owner of Jayleen's Alaska where she shows an intimate perspective of Alaska by providing a personalized whale-watching experience.
While the growth of her business started slow, Jayleen was always determined to give whale-watching a good reputation. Combining what she had learned from her parents with an innovative approach, Jayleen was able to grow and scale her business in just a few years. While operating a business can sometimes be stressful, Jayleen explains that your passion is always enough to overcome any challenges. 
Tune into this week's episode of What's Next to learn more about the realities of remote living and how Jayleen utilized her skills to build a business that follows her passion. 
Quotes
• "When starting a business, it'll take three to five years to really get on your feet, get a good client base, and to get well-known. (20:36-20:43)
• "I always had in the back of my mind that I wanted to do something on boats. So when I graduated college, I just really wanted to start a whale-watching business and to get back into it. And so that's what I did. I bought a boat, went into major debt at 22, and started the business in October of 2015." (26:24-26:54)
• "When you broke down my business plan, it was always going to be wonderful customer service. We were going to treat people the way we wanted to be treated, and we're gonna go watch whales." (27:37-27:52)
• "Our client base is really interested in a tech-based approach. To make the reservation and to learn about you, they don't necessarily want to talk to you face to face, over the phone, or even over email. They just want to make the reservation online and continue planning the rest of their vacation." (32:05-32:29)
• "You can be busy and you can feel stressed, but if you still wake up the next day and still feel motivated and ready to go after a bad day, then you're passionate about your business." (35:10-35:25)
Links:
Connect with Jayleen Bydlon
Website: https://jayleensalaska.com/
Facebook: https://www.facebook.com/jayleensalaska
Instagram: https://www.instagram.com/jayleens_alaska/
Tripadvisor Review: https://www.tripadvisor.com/Attraction_Review-g31020-d9885730-Reviews-Jayleen_s_Alaska-Juneau_Alaska.html
For all of Liz Smith's resources give her a like on Facebook: https://www.facebook.com/lizsmithlaw 
Podcast production and show notes provided by HiveCast.fm